Ductless Systems
REPAIR • REPLACEMENT • MAINTENANCE
We recently showed a mini split heating/cooling system installation by KJ Thomas Mechanical on our Facebook page. As promised, here is more information about this HVAC system.
What is a mini split?
A mini split is a ductless heating and/or air conditioning unit that can be installed in a room (or rooms) that needs climate control. It doesn't require a window or duct work, and is suitable for both commercial and residential installations.
Why is it called a mini split?
It is called a mini split because it consists of two small components. The part that is installed inside on a wall is called the air handler.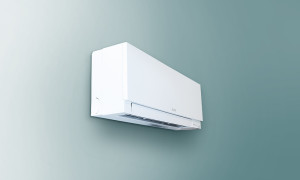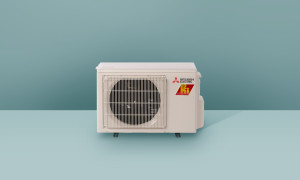 The outside unit is either a condenser for cooling, or a mini heat pump for cooling and heating. The outside unit can supply heating and cooling to multiple air handlers.
Why consider a mini split?
A mini split is a cost effective way heat or cool a room. It can be the single climate-control source for a room, or can be used to supplement your central heating/cooling system on a room-by-room basis. For example, you could install a mini-split in a basement bedroom that is always a bit chilly, or add to a room that gets too warm in the summer when the sun hits it. If you are considering adding on to your house or converting an attic space to living space, a mini split might make more sense than incurring the expense of expanding your main system which may involve expenses such as running new air ducts.
What are some benefits of a mini split?
A mini split is more green than most systems because it is built for efficiency. In a typical central system, the air leaves the furnace or AC unit (or the water leaves the boiler) at the perfect temperature. But by the time it reaches its destination, it may have lost or gained heat. A mini split doesn't have ducts, so heated and cooled air is delivered directly into your room at the temperature you chose.
A mini split allows you to provide heating and cooling to different zones. With an air handler installed in each room and controlled individually via a remote control thermostat, heat or cooling goes exactly where you want it, when you want it. Zoned heating and cooling is just plain efficient!
A multi split is allergy-friendly. Its fan operates continuously, removing allergens through a filtration system. You may find yourself breathing easier during pollen season.
A mini split can replace a window air conditioner unit which can block your views, leave your house vulnerable to break ins, and is costly to operate.
Typically, a 3 inch hole in an exterior wall is all that is required to connect the indoor and outdoor components.
The air handler is mounted high on a wall. When mounted on an exterior wall with the outdoor component on the other side (sitting on the ground), no unsightly interior conduits are required.
Will a mini split fit in with my decor?
A mini split probably looks best when the air handler can be installed on a wall that is shared with the exterior, thus eliminating the need to run conduit across the interior wall. The internet is full of ideas on how to decorate around the air handler. Karl can advise you on pros and cons of various options. It is important to keep in mind that for future maintenance, the air handler needs to be easy to access.
Who can install and service a mini split?
KJ Thomas Mechanical is experienced in installing and servicing mini splits. If you have questions about whether a mini split can make your space comfortable, please call us at 303-435-8141.