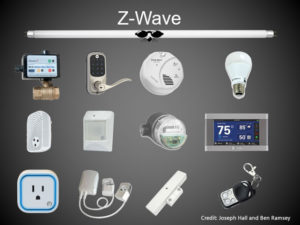 Z Wave
Have you been hearing or seeing the phrase "Z-Wave"? Chances are that if you've been in the market recently for smart home products or devices, you've run into this term. Z-Wave is a wireless technology that uses radio frequencies in the 908.42 MHz band to control and monitor devices such as thermostats, doorbells, garage doors, lights, dimmers and switches, outlets, motion detectors, smoke detectors. These and other such Z-Wave home automation and security products can be controlled from your phone and computer, and interact with each other. According to the Z-Wave Alliance, a consortium of over 300 companies that develop products using this technology, there are 2400 interoperable products that use the Z-Wave protocol to let your home practically run itself!
Z-Wave communication uses radio waves for several reasons. It's better to have your home devices off of your WiFi so they don't have to compete for bandwidth. WiFi network connections can be a huge battery drain, whereas Z-Wave devices use very little energy. And, WiFi networks often have less robust security measures built in.
With Z-Wave, you can connect over 232 devices and control them all remotely through a single app. Your app communicates with your hub, and the hub sends out the command on the device network. The devices pass it along until it reaches the target device. If one device goes down, there's no problem as long as there are other devices to route the command. Each device is a signal repeater, so the more devices you have, the stronger the connectivity is. Devices can be as far as 600 feet apart, and still communicate directly in a configuration called a "mesh network". Walls, floors, and ceilings don't degrade the signal.
The hub is the brain of the network. A few types of devices, such as some Trane/Nexia thermostats, have a built in Z-Wave hub (or, in Nexia terminology, a bridge). This means that you don't have to buy a separate hub. Hubs have Wi-Fi connectivity, either built in or through a connection to your router, so that you can control your devices remotely through the internet. After all, being able to turn on your lights or heat from across the country is one of the main reasons to have a smart home! Once you have a hub, you can start adding devices such as smart light bulbs, door and window locks, doorbells, fans, window coverings, garage doors, security cameras,water sensors, and switches and outlets, to name a few! The list of available devices gets longer all the time. One promising use of this technology is to help an aging population stay in their home longer with devices that caregivers can use to monitor their activity and environment.
It's really pretty easy to set up your devices – some hubs will detect devices automatically, and some hubs will require some help from you through the app that comes with it. After your network is set up, you can do things like set your inside lights to go on when the doorbell rings, or the heat to be turned on when the garage door opens.
A logical starting point for your journey of home automation is with a Z-Wave smart thermostat. Use of a programmable thermostat has been shown to reduce energy use. In fact, Energy Star estimates it can save you around $180 a year while keeping your home more comfortable. A smart thermostat also provides peace of mind. Colorado has many second home owners who use smart thermostats to monitor situations like whether the heat is working to prevent costly frozen pipes, or whether there's been a forced entry. With a smart thermostat, they can turn up the heat a couple of hours before they arrive at their mountain residence and ensure that it is warm upon arrival! Many thermostats also control your air conditioners and humidifier too.
Trane and Nexia have partnered to create home automation made easier with Nexia's Bridge (or hub) technology. Some of Trane's thermostat models require purchase of the Nexia bridge, while others have the Z-Wave hub capability built in. Trane's top of the line connected thermostat, ComfortLink II XL1050, has a built in Nexia bridge that can control up to 232 Z-Wave devices, as well as allow voice control through Amazon's Echo. The Nexia Service using the thermostat's built-in Nexia Bridge is free. It is web-based and allows you to control your thermostat from anywhere in the world as long as you have internet access. There is no charge for this service unless you add another device beyond the thermostat, which would require a monthly fee. Trane's lower end connected thermostat, the XL624, requires the purchase of a Nexia Bridge to control it and other devices remotely.
Security can be a concern with "the internet of things". Wikipedia states that the Z-Wave Alliance announced Security 2 (S2) to implement stronger security standards for smart home devices receiving Z-Wave Certification as of April 2, 2017. This includes better encryption of transmitted data (like that used by the banking industry) and better device authentication to deter hacking. In addition, each device on your network has a unique id assigned by your hub so that only your hub can control your devices.
Interested in learning more about Z-Wave? Search for "Z-Wave products" to find industry websites with information and shopping pages. You can also visit Trane's website to see their line of smart thermostats. Give KJ Thomas Mechanical a call at 303-435-8141 or contact us online to inquire about the smart thermostats we sell and install, or other heating, cooling, venting, or humidifying needs!