Repair or Replace Your Furnace?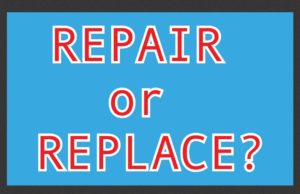 Is it time to repair or replace your furnace? For most of us, this scenario happens sooner or later: It's cold outside, and it's chilly inside too. You check your thermostat, and discover that your furnace is not working properly. Most of the time, I can diagnose the problem and repair it. Sometimes, we will have a discussion about repairing the problem versus replacing the furnace.. And occasionally, I may advise you that the best, or even only, option is to replace. What are the factors that play into this decision process and how can you know you made the right decision?
Let me address the second part of that question first. How DO you know you made the right decision? I think that's where your trust in KJ Thomas Mechanical comes in. As most of you know, I've been doing nothing but HVAC in Boulder County my entire adult life. That's over 30 years! As the owner of a business, I rely on building ongoing relationships with my customers, and growing my business by referrals. At the end of every transaction, I hope each customer understands the rationale behind my recommendation, which is offered always with short term and long term cost-effectiveness and safety in mind.
So, what are some of the factors that enter into deciding whether to repair or replace a furnace? Here are some of the considerations:
Furnace Condition
If a furnace failed because of a bad part, and that part is discontinued by the manufacturer, a repair could be prohibitively expensive. Discontinued parts can often be located as reconditioned or stockpiled, but they tend to cost a lot. If a repair cost approaches $1000, repair might not be the best plan. You must also factor in the cost of labor when evaluating whether a repair makes sense. In addition, after fixing this problem, are you likely to have other costly repairs in the future?
Sometimes older or unmaintained equipment is just plain unsafe. If a furnace is leaking a significant amount of carbon monoxide due to a cracked heat exchanger, your HVAC service person will "red tag" it – i.e., shut it down as unsafe to operate. I will give you an honest appraisal regarding whether the furnace is worth repairing.
Furnace Age
How much of a factor age is depends largely on the brand and model of the furnace. The better brands simply last longer, as do the higher end models of a good brand. The more cheaply built furnaces will need to be replaced sooner than a solidly built furnace. But keep in mind that any poorly maintained furnace may show it's age sooner than it should.
Furnace Efficiency
Much like air conditioners with their efficiency rated by SEER, furnaces are rated by AFUE. AFUE stands for Annual Fuel Utilization Efficiency, and basically measures how much fuel gets turned into heat (with the remainder being basically wasted). The more efficient a furnace is, the more heat it can extract from the fuel. For example, a 90% AFUE furnace means that out of every 100 BTUs of fuel input into the system, you get 90 BTUs of heat output. Furnaces are available within the range of 78-97% AFUE. If you have an older model on the low range of efficiency that is experiencing a maintenance issue, you could consider replacing with a higher efficiency furnace. More efficient use of fuel means you will save on monthly gas bills. Just be aware that you you might need to decrease the "size" (amount of heat a furnace outputs) if you increase efficiency to avoid oversizing the furnace for the amount of space you need to heat. There are even calculators out there to help you see what kind of savings you might get with a more efficient furnace, such as this one.
Furnace Brand
You can do some research on the internet to read customer and professional reviews of different furnace brands to see where yours falls. I install Trane furnaces because they are consistently at the top of the list for longevity, efficiency, and reliability. Try to stay with a top-rated brand. Remember, if you haven't heard of it or it's a low end consumer brand (that is, you can go to a big box store and buy it yourself), you should be cautious. Parts may not be readily available and they may be problematic.
Another thought to keep in mind as you consider furnace brands is that companies that sell less well-known and reputable brands may not be around to take care of you in the future. Their technicians may not know how to size and install equipment properly, which could create headaches for you. It's a good idea to make sure whoever you use to install a furnace is insured and has a minimum of 10 years experience by the owner. Beware of meaningless claims such as"10 years combined experience" which could mean the company has 120 people with 1 month experience each! We professionals develop an expertise in a product line as we stick with a well-known brand over the years (such as I have with Trane), and that expertise benefits you. An HVAC company that frequently changes the brand of furnace it installs may be experiencing financial difficulties.
Furnace Warranty
The industry's standard furnace warranty for an owner occupied residence is 10 years on parts with registration of the furnace with the manufacturer. The warranty on labor from a company installing your furnace is usually 1 to 2 years. Again, choosing a reputable company ensures that they'll be around to honor your warranties.
Finally, there is nothing like peace of mind! Although no one can guarantee that your furnace won't need emergency service, buying a reputable brand and keeping it maintained (including keeping a clean air filter installed) should decrease the chances that you will have to call for help. KJ Thomas Mechanical has built its reputation on keeping you warm in the winter, and cool in the summer. Call us at 303-435-8141 or contact us online.